About Us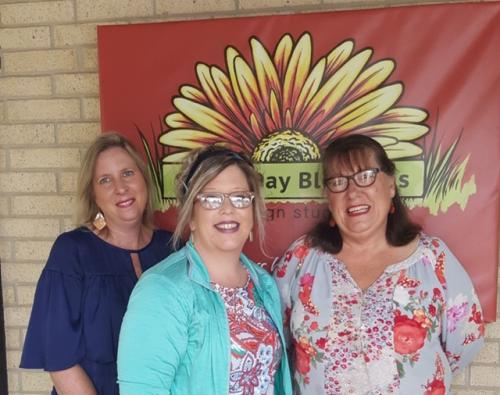 Sunny Day Blossoms
Our mission statement: Providing quality floral arrangements and outstanding customer service to all customers.
Sun makes all things grow. We strive to make our relationships grow with our customers by providing top notch floral designs. Sunny Day Blossoms Floral Design Studio was created when three avid flower lovers got together and realized they wanted to continue to share the joy flowers give with others. With many years in the floral industry, Debbie Woltmann, TMFA, Destry Pohlmeyer and Melissa Franke offer quality floral designs and products for long lasting enjoyment.
Melissa Franke
I am excited to once again be working with Debbie Woltmann and Destry Pohlmeyer in a floral design studio environment. I have learned a lot in the past years from the two knowledgeable and talented designers. I consider it a huge honor and privilege to enter into the endeavor of starting up a new floral design company with two such accomplished and artistic people with such a positive and customer driven attitude. I consider myself incredibly lucky to be able to truly do what I love for a living.
Destry Pohlmeyer
My story started in Brenham, Texas where I was born and raised. I grew up with a brother and sister in a rural area where we learned to love nature and the great outdoors. I completed a bachelor's degree in Accounting from the University of Houston. I was able to combine my accounting degree and my love for nature by purchasing a flower shop in 1997 with a great friend, Debbie Woltmann.
My father loved a beautiful yard full of flowers. My mother reminisced many times about her grandmother's yard that was filled with flowers, no grass, all flowers. After a brief break from the floral industry I am once again thrilled to be able to design and work with nature's gorgeous offerings. It is a pleasure to design for Sunny Day Blossoms with Debbie Woltmann and Melissa Franke.
Debbie Woltmann
I have been a florist since '78 upon earning a degree in Floriculture from Texas A&M and don't recall a time that I didn't love flowers and gardening. As a child visiting my grandmothers and many Tantes (Aunts) I remember always walking the yard to look at the flowers. Blossoms, seeds and "starts" (cuttings) were freely shared. I still have plants in my yard that were started from Grandma's plants. Another love was art class but I didn't see artist as a sensible career. When in college I took floral design in addition to many plant courses and discovered that floristry combined my love of flowers and art. Flowers are my paints and the vase is my canvas. I feel continuing education is key to staying fresh with current trends and techniques, new varieties, updated care and handling of flowers. During my career I added Texas Master Florist Advanced (TMFA) and FTD Master Florist verifications to my resume My next goal is to attain CFD certification. After selling our last shop I spent several years freelance designing at many shops and teaching floral design for Texas State Florists Association, I am excited to be back in a daily operated design studio creating florals for life's many special moments for everyone in Brenham. Spending the days with Destry and Melissa and seeing our many client friends will bring sunshine to my life. As my favorite tee shirt reads "It's a great day and flowers make it better."